My Desk Setup (2020 Update)
4th June, 2020 - Blog
What's up, everyone? I've wanted to put this post together for a little while but have been piecing together my updated setup – but I think we're finally there!
With that in mind, here's my current workstation and everything I use on a daily basis! My "Portable Setup" post was one of my most popular blog posts, so consider this a follow-up of sorts.
The desk itself is a simple Ikea one, as are the matching drawers which are full of cables, a Blue Yeti X mic (review here), and a Scarlett 2i2 audio interface for the rare occasion I get to record music. With all that out of the way, let's get to it.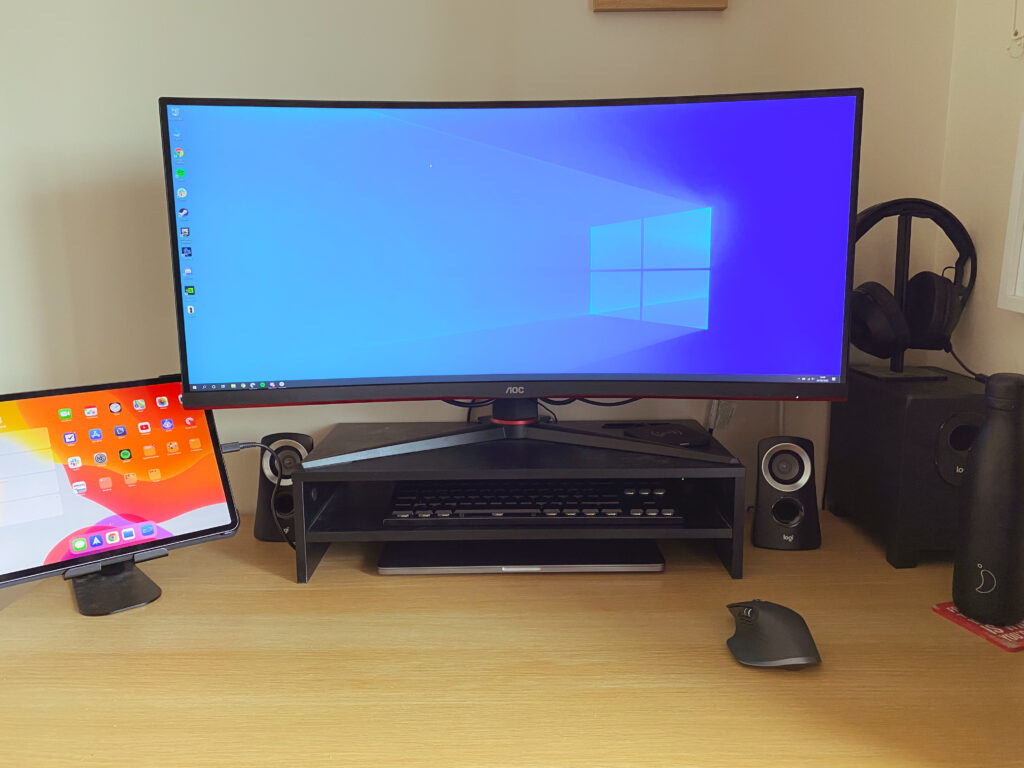 Monitor – AOC CU34G2X/BK
I'm currently reviewing this monitor, and I've been so impressed I'm actually going to order my own next week. It's a 34-inch ultrawide with a high refresh rate that makes it ideal for both work and gaming.
I've got the PC hooked up to it, as well as the MacBook Pro, so I can switch between the two.
Computers
As I've already written about, I recently invested in a gaming PC – it's tucked underneath the desk.
I'm also doing the majority of my work from my MacBook Pro which is sat snuggly underneath the desk tidy. It's not the biggest desk, so having the option to tuck it away, with the PC charging it via USB-C, is very handy.
Mouse and Keyboard
I recently reviewed Logitech's new G915 TKL keyboard that's out this month, and it offers an impossibly thin but sturdy design alongside tactile keys and some fun lighting. It's made a huge difference to my Rainbow Six: Siege ability, I'd say!
What's handy is that it's connected via a wireless connection to my PC, but with one button press, it'll connect to my MacBook via Bluetooth.
Similarly, my mouse is the Logitech MX Master 3 (review here). This is the most comfortable mouse I've ever used, and again I can switch it between my PC, Mac, and iPad with one button press.
iPad
My iPad Pro 11-inch has been moved onto pastures new, and I now have the 2020 12.9-inch iPad Pro which feels monolithic in comparison. It's ideal for using with Sidecar in MacOS Catalina, but I can't extend my Windows PC to it as things stand. It's ideal for keeping an eye on chats with clients, as well as managing my to-do list.
Speakers
Frankie and Jax got me an early father's day present, so I've got these great Logitech speakers (the model number of which escapes me). With left and right speakers, plus a subwoofer to the right, it's great for music, video content, and podcasts.
When I play online, or simply want to focus, I use a RIG 700 HX headset (review here). It's comfortable for long periods, has decent battery life, and is wireless and with a very clear mic.
Anything Else
I've run a micro-USB from the PC up through a hole in the desk tidy to be able to tuck a wireless charger under the screen. That means I'm able to just lay my phone and charge it without having to worry about any additional cables.
I've also got a NAS drive attached to our router in the hallway. That means both of my computers are constantly backed up, just in case something goes wrong. I've also got an iCloud storage plan which serves two purposes – for one, my documents are backed up for safekeeping. For another, I can access them anywhere, even using a web browser on any PC. I haven't needed the functionality for hitting a deadline yet, but it's best to be safe.
So, that's the setup! What do you think?
Thanks for reading,
Lloyd
Recommendations
Game: I'm reviewing Borderlands Legendary Collection on Switch, and it's great fun. Be sure to check it out, and look for my review in the coming days!
3,243 total views, 2 views today