The Big Desk Tour of 2022
25th June, 2022 - Blog
Hey everyone, how's it going? I've been meaning to put this together for months (this started as my 2021 desk setup tour), but here we are!
In any case, my desk tour has been something I've been doing for years, so here's the latest tech I use for work, as well as stuff I use for gaming.
The office
There are a few big updates this year, but one of the biggest is that Frankie and I now have a house – woah! It's small but cosy, and with lots of potential.
One of the reasons we bought it was for me to have an office space, and it's amazing. I've gone from working from a desk in the corner of our bedroom to moving to a converted garage with plenty of space. I've even got two desks, as opposed to just the one, so Frankie can work in there, too.
While I'd ideally like to knock through a wall into the kitchen to make it feel less isolated out there, for now it's nice to have plenty of room to work in.
Desk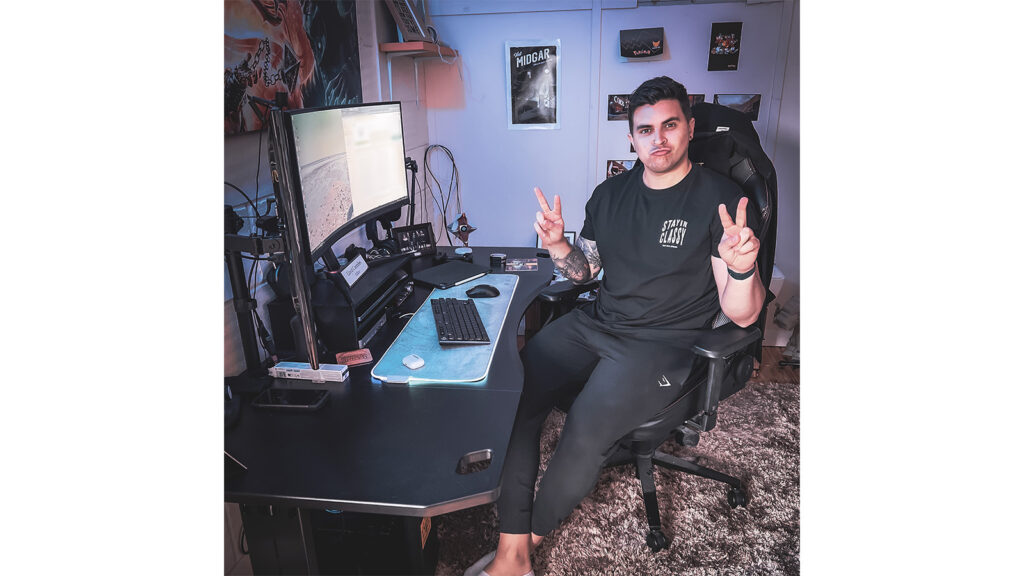 So, first up is the desk itself. My original draft of this said "man, I'd love a standing desk", and then I was lucky enough to review one for Dexerto. It's got dual motors, so I can stretch my legs while working.
My second desk, a Halberd Chimera, is solid – like, really solid. Why two desks? Aside from Frank working in there sometimes, I also want to start putting together some Gunpla models.
A note on the desk tidy before we move on. It was a cheap pickup from Amazon which I used with my prior desk to help keep my monitor at eye level. It also fits my various tech gear inside perfectly. My keyboard and mice fit on the shelf, but gap underneath is perfect for my OWC Thunderbolt Dock, and my Scarlett 2i2 Interface.
The former is hooked up to my laptop. It charges the MacBook Pro, adds an Ethernet connection, and connects to the monitor via HDMI. 
The Scarlett interface is underused at the moment, but the plan is to start producing some more music in the office – because apparently having a million things to do isn't enough!
Chair
I've waxed lyrical about my Secretlab Titan Chair since I reviewed it a few years ago, but it really is the comfiest chair I've ever sat in.
Monitors and speakers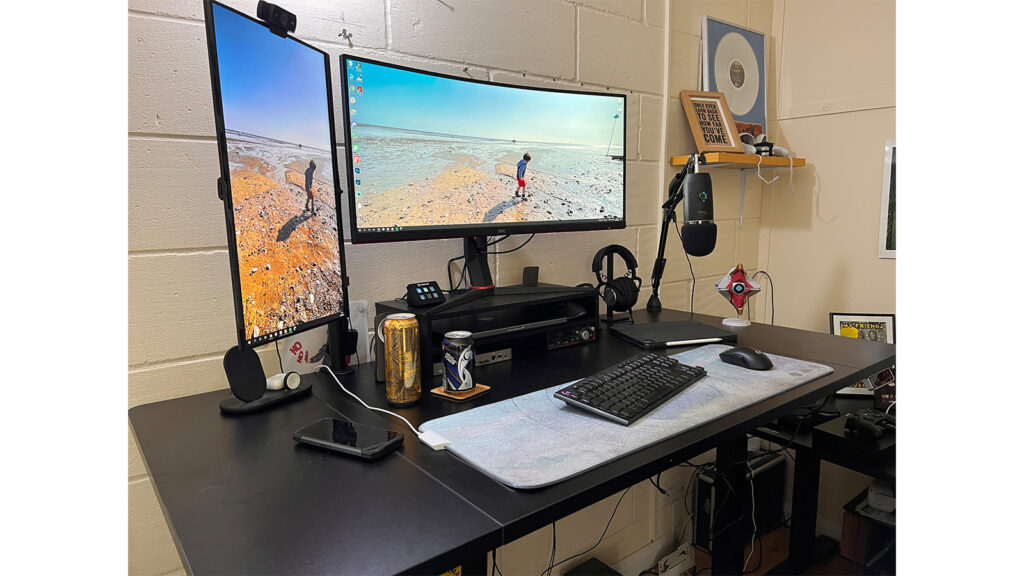 My monitor of choice is the AOC CU34G2X/BX. It was recommended by Ant, who built my PC, and it's great. In fact, I reviewed it, and liked it so much that I bought one.
I regularly switch between Mac (HDMI), and my PC (DisplayPort). Sure, I'd love an OLED version, and HDMI 2.1 would be nice, but for now it's a perfect size for my creative and professional workflows.
It's also got a high refresh-rate so I can play games at up to 144 FPS.
I also recently found an LG display that used to be an additional screen back when I lived in the flat. After buying a mount and racking it up, it's ideal for keeping a Slack window open while working, or Discord open while playing games – or it makes a really handy place to control Spotify. It's connected to my Mac via a USB-C to HDMI cable, and I use a switcher to change it over to the PC.
My speakers are the Logitech Z313, and they offer crisp, clear audio from the desktop speakers, with plenty of oomph from the subwoofer by my feet.
PC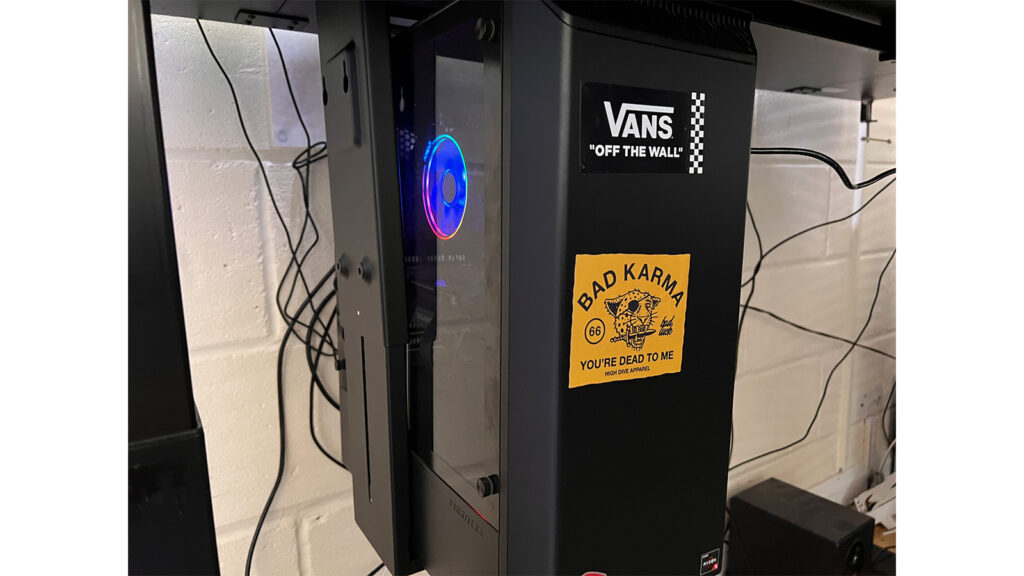 As a reminder of my PC specs, my rig is…
Processor: AMD 3900x 12 core CPU
Motherboard: MSI x570 Motherboard
RAM: 32GB DDR4
Graphics Card: RTX 2070 Super Graphics 8GB
OS Storage: 500GB M2 SSD
General Storage: 1TB M2 SSD/1TB SSD
Case: Phanteks P300 Tempered Glass Case
Power: 650W Modular PSU
It's a beast, outfitted with an extra SSD since Ant built it. I originally bought it for playing games for work coverage, but in many ways, it's become my work machine, too.
Having a PC has allowed me to cover a lot more games than I could before, and play with friends, but it's so fast that it boots up in seconds and is perfect for my work at Dexerto and freelancing.
Stream Deck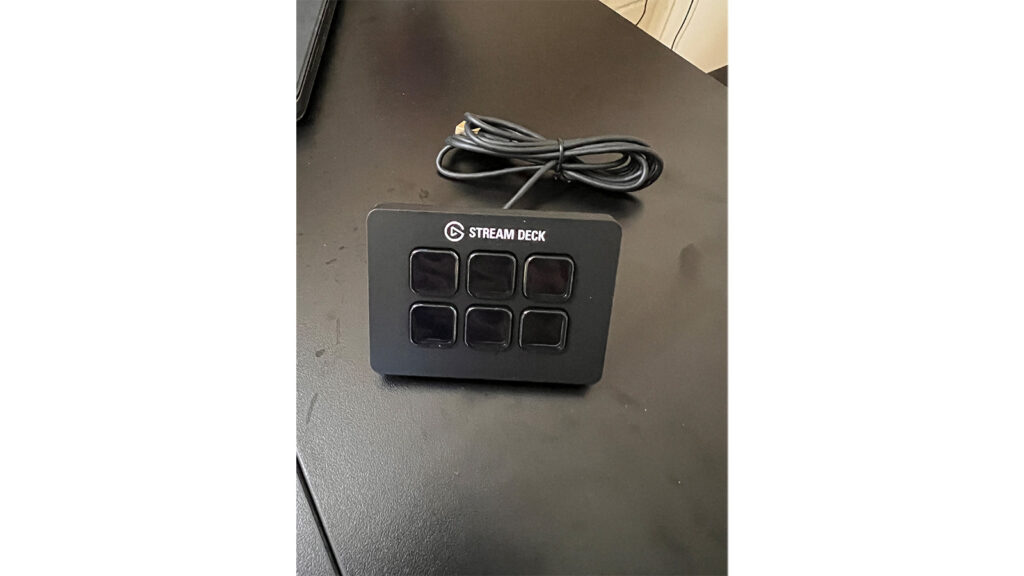 Frankie got me the Elgato Stream Deck Mini for Father's Day this year, and it's great. Will I stream again? I hope so, but I've revamped my "scenes" ready for it!
Headset and Mic
I was lucky enough to review the Logitech G Pro X Wireless headset, and it's still my mainstay.
It's comfortable, with an incredibly clear microphone and plenty of power in the audio. I've tested plenty of other headsets, but this is the one I keep coming back to. I have, however, removed the mic, because I use the Blue Yeti X, attached to a boom arm that's clamped onto the desk, for podcasting, video calls, and playing games.
Keyboard and Mouse
For keyboard and mouse, I'm all in with Logitech.
The G915 TKL keyboard works with both my laptop and PC, with a button press to switch between the MacBook (Bluetooth) and the PC (wireless USB dongle). It's comfortable, with perfect amount of clickiness in the keys. I never miss having a numpad, either.
The Logitech G Pro X Superlight mouse is one of the more understated options out there, but it's responsive, feels great in the hand (phrasing) and is, as the name suggests, light.
When I use my MacBook, I use the Logitech MX Master 3S. This is the mouse a lot of content creators use, with plenty of customisable buttons and a really nice ergonomic feel.
Laptop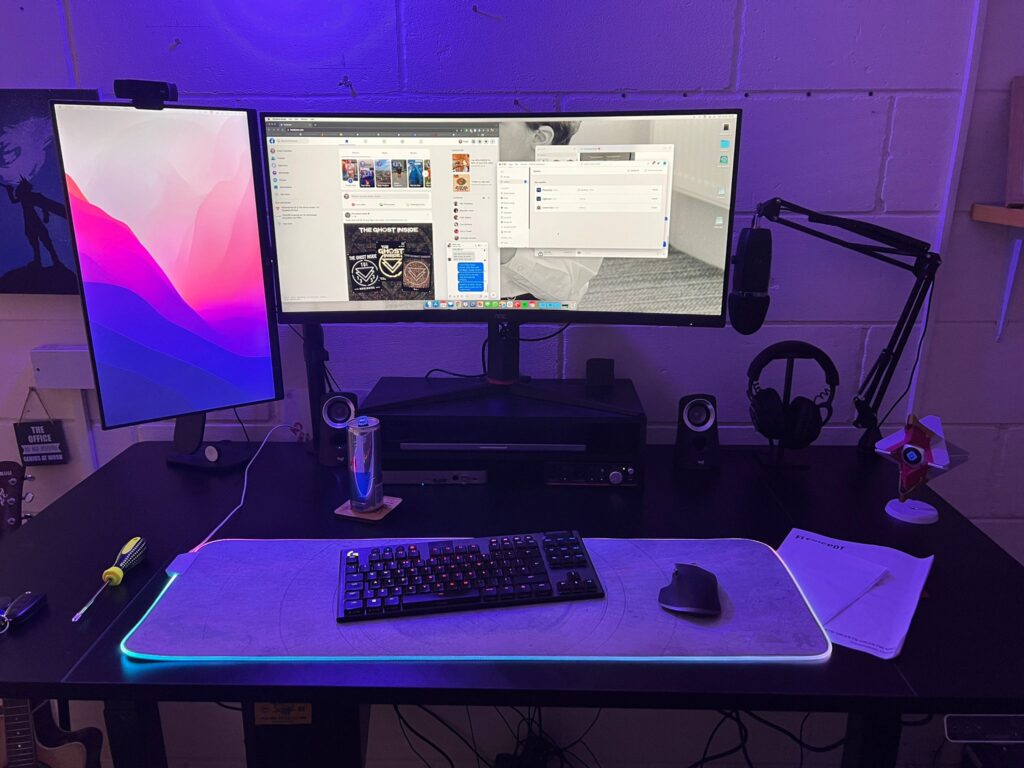 My laptop is the base 16-inch MacBook Pro that launched in 2021. I use it for work, for blogging, for email, invoicing – all the stuff that's not gaming, really. Then there's editing audio for the podcast, using Photoshop, and more. It's fast, and with the docking station it's essentially a desktop across two monitors — and my iPad.
Tablet
Speaking of, Apple sent me the M1 iPad Pro 12.9-inch and it's amazing. I still feel like it's tough to find apps that use all that power, but for now, I'm happy to have the headroom.
It's great for watching movies or TV shows, too, and makes an ideal second screen for the MacBook – not just on the desk, but when I'm working away from home, too.
Headphones
As you know, I like to keep multiple headphones for different purposes. My AirPods Pro are for almost everything else, but when I'm sat at my desk doing work on the Mac, it's all about the AirPods Max.
These headphones offer excellent quality, great noise cancellation, and they're just really comfy. I'll often be working on the PC and turn my music off, then play it from my phone, iPad, or MacBook to these beauties.
I finally retired my Powerbeats Pro recently, too, with Apple sending me the Beats Fit Pro.
So, there you have it – the full desk tour of 2022, for those of you that asked!
4,251 total views, 15 views today