An almost quarterly check-in
6th March, 2022 - Blog
What's up, folks?
It's been my goal to hit a new post every week on this blog in 2022, and it's working so far. Using Streaks, I've built up a bit of a, um, Streak.
I've got a few things planned for the weeks to come, but since things have been incredibly busy in recent weeks this one is a shorter post. I'll be updating the portfolio soon, but long story short is that I've been able to cover things in both my day job and as a freelance tech writer that I'd have dreamt of back in the day.
I've been working in the games media industry full-time for just two years now, and I think I sometimes forget how far I've come in that time. Looking at the work I do at Dexerto, and the team I get to work with, is my favourite part of Sunday night — I know I've got a job that challenges me but one that I enjoy wholeheartedly. I'm forever grateful for the life I have.
As for freelance, it's been busy, too. I've been writing reviews for tablets, laptops, and a few buying guide updates that have coincided with a month of gaming news that's been truly, truly huge. I can't remember a month like we've had in February, and being able to work on the likes of Elden Ring, the new Cyberpunk update, Dying Light 2, and plenty more has been tough at times — like finishing work, doing an interview, then turning over to "freelance mode" some days without taking a break.
Listen to "Glitch Slap" on Spreaker.
Then there's the podcast! We took a week off recently but returned with not one but two episodes. I've been learning the ropes when it comes to both hosting and editing the show, but it's been great fun chatting to Mel and Ross every week.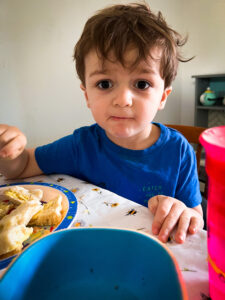 At home, Jackson is now just two months or so from his third birthday. He's always talking, and after worrying that he may have been behind his nursery classmates, he comes on leaps and bounds every week. I'm so proud of him, and love every minute we spend together as a family. We're all looking forward to a trip to Scotland soon.
As I type this I managed to hit another 30 minute run, too, and while work and life meant less time at the gym in February, still managed to hit over 20 workouts across the last 30 days which I'm pleased with.
So, there you have it — a quick check-in ahead of another busy few weeks. Thanks so much for reading!
3,431 total views, 2 views today