My Everyday Carry (2022 Edition)
27th February, 2022 - Blog
What's up everyone?
It's been a while since I did an everyday carry blog post (I think the last one was on my old blog), so here's an updated one for 2022.
Here's everything I have on me as of 2022.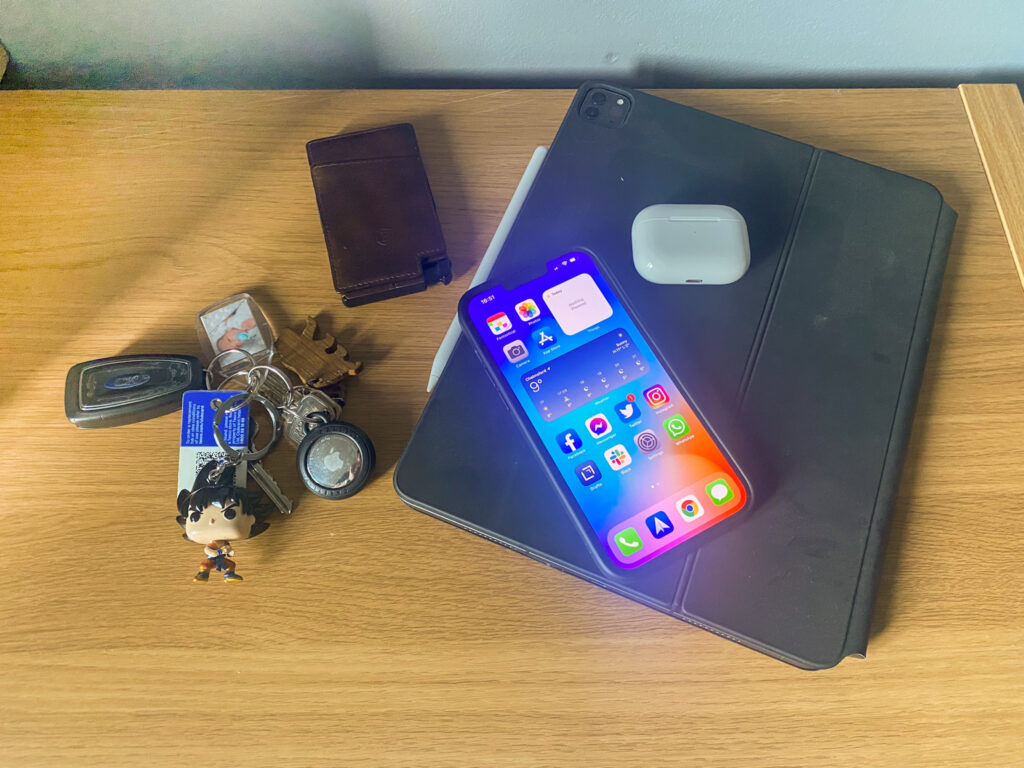 Phone: iPhone 13 Pro Max
Put simply, the iPhone 13 Pro Max is the best iPhone ever.
As a fan of devices with big displays, it's perfect. The OLED screen is great, and thanks to ProMotion everything feels responsive.
It's also got an incredible camera on it that has me tempted to actually try and get better at photography, and there's no slowdown – whether I'm writing lengthy blog posts in drafts or playing games like Wild Rift or Legends of Runeterra.
Then there's the battery life, which is pretty incredible. It doesn't seem that long ago that iPhones were barely lasting a day, but with the iPhone 13 Pro Max I can skip a charge for about a day and a half, or even two days. While I'm rarely away from home for any period of time, that's a nice bonus to have.
Watch: Apple Watch Series 7
I loved my Apple Watch Series 5, and would've kept using it for a while longer. Luckily for me, though, Apple sent the Apple Watch Series 7 (review here).
It's got a wealth of sensors, but as I wrote before, my favourite part is being able to go for a run without needing to take my watch with me. In fact, as I write this, I'm planning to go for a run this afternoon while leaving my phone at home.
The Series 7's display also wraps around the chassis, stretching it to be a little bit bigger. That makes UI elements easier to discern from one another, which is helpful when running full pelt on a treadmill!
Wallet: Ekster Parliament Wallet
I hate carrying cash, I really do. Even before the pandemic I'd much rather use my card or Apple Pay, and that means Ekster's Parliament Wallet is perfect for me (full disclosure: this was sent to me).
The wallet has a spring-loaded mechanism with space for a few cards and my driving license. There's a part for cash, too, but as I said I don't tend to carry any.
It's small, and protects against skimming.
Earphones
Oh boy, this is where it gets tricky. I have three sets of headphones.
AirPods Max: I only tend to take these out if I'm going to be using my MacBook Pro or my iPad for work. That's because they're big and expensive, so I use them most at my desk.
Powerbeats Pro: I use these for anything involving running. Treadmill, road running, or even a brisk walk, these are ideal.
AirPods Pro: These are my go to for everything else. I use my AirPods Pro for weights workouts, walking into town, and for anything else.
Tablet: iPad Pro
Ok, so it's not like I take my tablet everywhere, but it's worth mentioning it's becoming my favourite portable computer. I had the 2018 iPad Pro 11-inch and upgraded to the 12.9-inch 2020 model before Apple sent me the M1 version earlier this year.
While much of the experience is the same, the new mini-LED display is absolutely gorgeous when watching movies or even just navigating Google Docs and the like.
Then there's the sheer power of having a laptop-grade chip in a tablet. I use the Apple Magic Keyboard all the time, and while I'm no artist, the Apple Pencil makes the iPad even more fun to use.
AirTag
I carry one AirTag on me, and it's attached to my keys. You never know when you'll need one!
---
So, there you have it, my everyday carry in 2022.
3,283 total views, 2 views today