The "Laptop as a Desktop" Dream
20th February, 2022 - Blog
What's up, folks?
While I wish I could tell you the laptop in the header image is mine, I'm afraid it's not — but I am reviewing the latest round of MacBook Pros for some freelance clients.
I'll be posting the reviews as part of my portfolio when it goes live, but I'm really impressed, even as much as I adore my 2019 MacBook Pro. The power, compatibility, and battery life are all pretty huge upgrades.
Above all else, though, I love how it fits into my setup. I'm still working on my desk tour blog post, but when it comes to my Mac usage I've been moving more towards using my Windows PC because it's just easier, and it runs faster. That's perhaps not surprising, given it's an expensive custom desktop.
That's a shame, because I much prefer using macOS for work. I have my apps and utilities setup the way I want them (I'm still yet to click with an email client on Windows), and it's the only place I can use Things 3 — the app I literally plan my entire business through.
The new MacBook Pro, though? That's pulling me back to the Mac in a big way.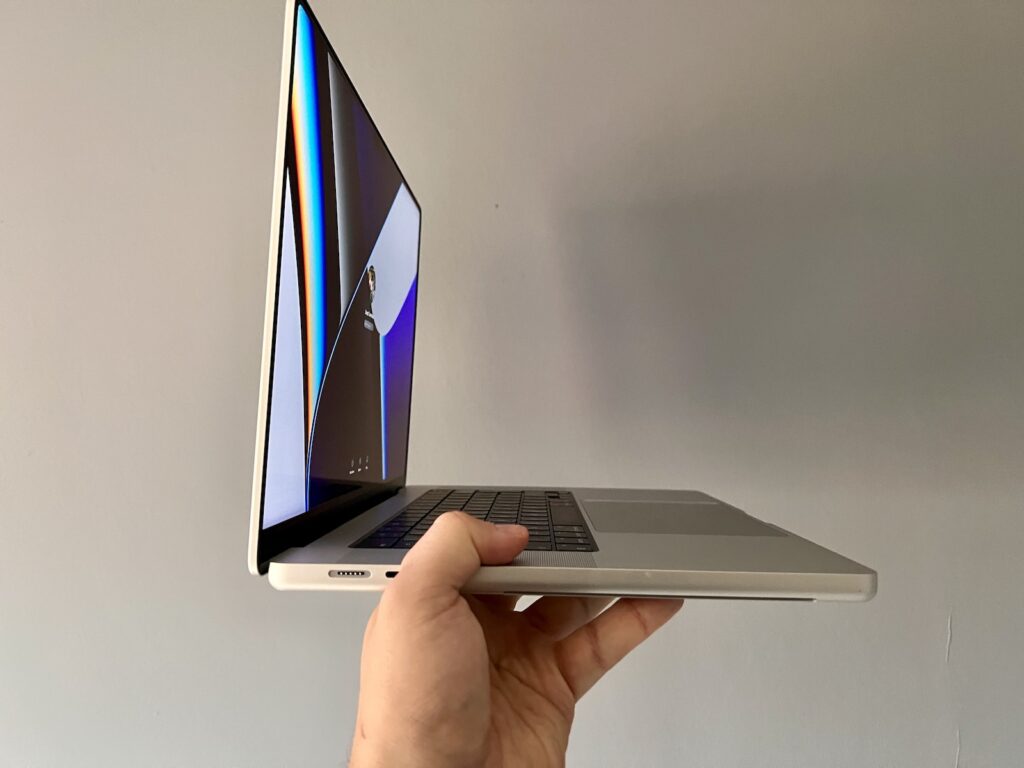 The new MacBook Pro is the closest I've ever been to the "laptop as a desktop" dream that I've been hoping for. While Macs can be a bit iffy with external displays (there's always that "will it or won't it" moment when powering on), that's a thing of the past now. I open it, hit a key, and bam! It's there, and boots up even faster than ever.
I'm still connected to my Thunderbolt dock, so while I appreciate the MagSafe charger and other assorted ports like the HDMI and SD card ones, I'm already set. That means I'm still living the "one USB-C cable" dream, which means I just have to plug one cable in and I'm connected to my monitor, speakers, mouse and keyboard.
The other big win is that Apple moving to the M1 architecture makes connecting to my AirPods so much faster. I use AirBuddy, a utility that makes it easier to connect them, and while it works on my prior laptop, there was always the possibility of it getting confused and connecting to the wrong headphones. Now, it really is instant, much more akin to connecting them to my phone.
Long story short, this is the first MacBook Pro that essentially feels like a desktop in a laptop form-factor.
2,876 total views, 2 views today