I Think iPadOS Is Fine Now (iPadOS 15 Impressions)
13th July, 2021 - Blog
Evening all,
I'm finally sitting down to blog because Jackson, in a completely out of character move, has fallen asleep early. VERY early, which means it could be a long night tonight.
I've had a hell of a week already, and it's only Tuesday, but am planning to get back to producing some original content for the blog in the coming days. So, here we are.
What Do I Want From iPadOS 15?
Much has been said about Apple's latest software update for iPadOS, and I'm writing this on my iPad right now with the beta installed. It's not too dissimilar from last year's update (itself a pretty modest one), but I'm wondering what I'd change.
The key thing for me has been multitasking. If I take my MacBook to do some writing, I'll have various tabs open, music playing, messages and emails to respond to and goodness knows what else.
The iPad has always felt like it just doesn't fit into such a _busy_ workflow, but Apple's latest effort feels closer than ever to making that a reality.
As I write, I'm enjoying the latest Don Broco track from Spotify, and I'm flicking through Reddit and web pages – all while my writing app (Drafts has become my permanent canvas) is open for the most part of the screen. It's not entirely analogous to a PC or laptop, but it's also a lot more fun to poke and prod at the glass and move windows around like it's Minority Report but without the murder.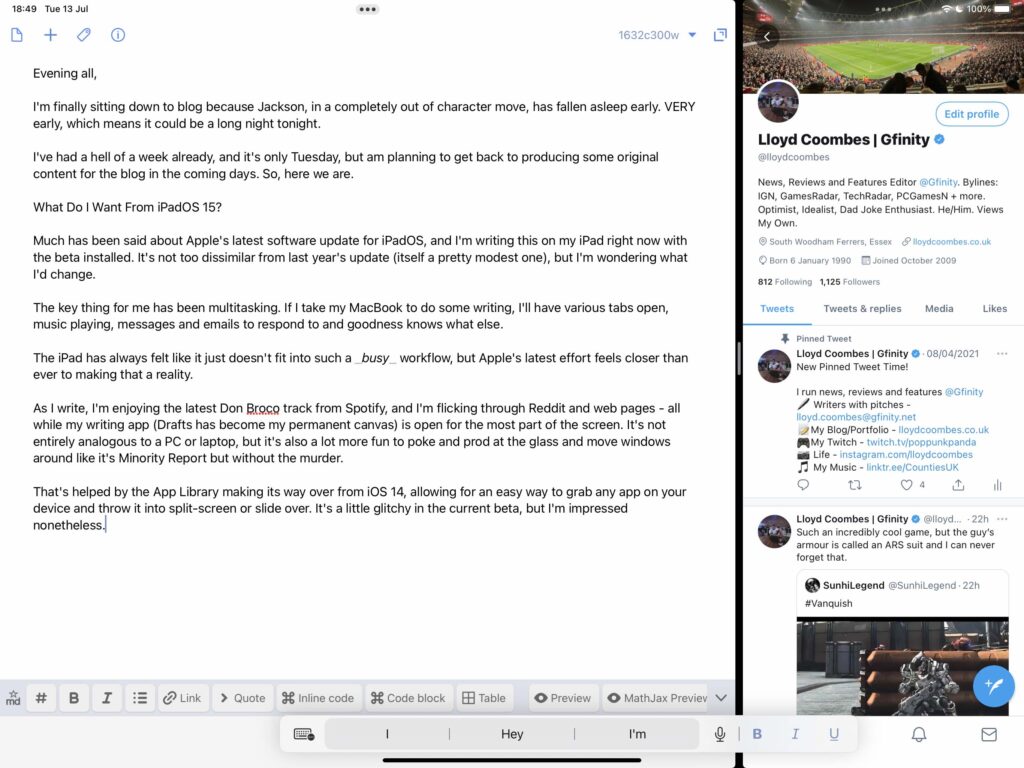 That's helped by the App Library making its way over from iOS 14, allowing for an easy way to grab any app on your device and throw it into split-screen or slide over. It's a little glitchy in the current beta, but I'm impressed nonetheless.
That's put me in an interest predicament, though. Am I entirely happy with iPadOS? I'm sure if I thought about it long enough, there would be plenty of annoyances. The Files app still feels a tad clunky, but it's improving and I don't save a great deal of files anyway. Some Widgets feel a bit pointless, sure, but at least I've got my boy's grumpy little face on my home screen now for when I need to smile.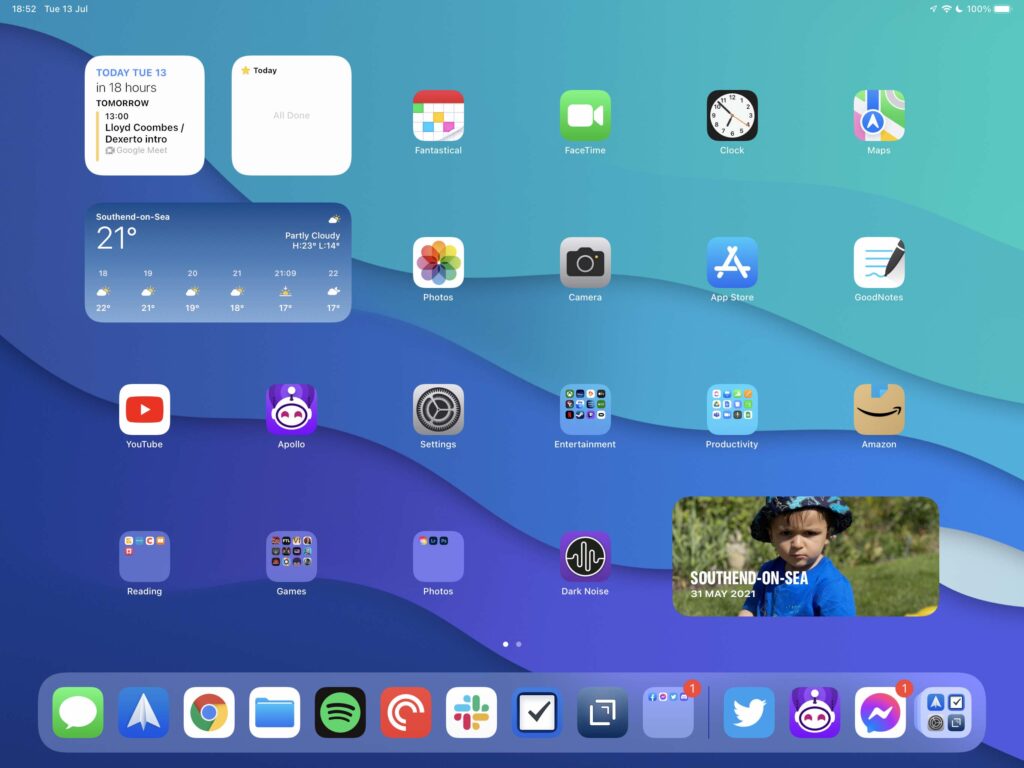 Frankie got me an Apple Pencil for my birthday this year, and I honestly was a little worried I'd struggle to find use for it. But, during interviews and events, it turns my iPad into an ideal notepad using GoodNotes. Here's hoping the new 'Quick Note' feature becomes available in other apps, because I can see this being ideal for quick capture but it defeats the object if I'm then split between two notes apps.
It's not the primary use for my iPad, but when you factor in gaming as well, things get particularly impressive. Divinity Original Sin II is a fully-fledged port of a complex console and PC RPG, and being able to play it on an iPad that's thinner than a traditional pad of paper is pretty revolutionary. Then there are my current stalwarts of Legends of Runeterra and League of Legends: Wild Rift, which keep me coming back daily.
I suppose what I'm getting at is that the iPad Pro is now at the point where it's an ideal device for me. It's not cheap, though. Between the tablet, the keyboard and the pencil, you'd get an M1 laptop for less – but I do feel you'd lose that unquantifiable sense of fun.
1,892 total views, 2 views today