Can I Work On An iPad?
16th August, 2020 - Blog
Quick Update!
I now have an RSS feed setup, so you can subscribe to my blog using lloydcoombes.co.uk/feed. That way, you'll get portfolio updates, as well as blogs such as these, as soon as they're published. Give it a go!
As you likely know, writing is my livelihood – I mean, presumably that's why you're here!
All of my work is done on my MacBook Pro, and while I occasionally write up pieces of content in Drafts on my iPad Pro, it's rare that I do anything with them on that – especially since I'm still unable to justify the Magic Keyboard accessory.
So, with some time this evening once Jackson went to bed, I worked on some content in Drafts for both Gfinity and for this very blog, on my iPad Pro. Here's what I learned.
Oh, and a quick note – I'm using an old school Mac keyboard and my Logitech MX Master 3 mouse for this.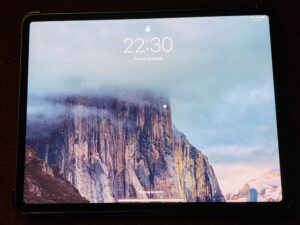 Using a CMS
Our Gfinity CMS is, as you'd imagine, accessed through Chrome. I was able to copy and paste my work into it with no issues, but I'd already made my header images in advance (without an Apple Pencil, Photoshop on here is a little bit of a no-go for the time being).
Once the text was in, I was able to add links without any problem, but adding images from a Google Drive press kit was more cumbersome than I'd hoped. Images tend to auto-download to Photos, as opposed to Files, and so when I uploaded them from my Photo Library, they'd been renamed.
This made them tougher to find, especially in a folder with hundreds of images already uploaded, but I found them eventually.
Then there are other systems that tie in with the CMS. One allows us to add video media, but the "Add" button simply didn't appear on the iPad version of Chrome, and was hidden by the address bar when requesting the desktop site, too.
While I could switch to Safari, I prefer Chrome because our CMS is infinitely more compatible with Google's platform – plus there are bound to be some teething issues there, too.
All in all, though, I was impressed. With some tweaking (and an Apple Pencil), I can see myself able to upload work from my tablet, albeit a fair bit slower than on a computer.
On WordPress
My oldest friend Dean of WeCreateDigital built my site, so not only does it look great, but it's secure, too. Once I logged in using 2FA, I was able to jump straight into this blog and get writing.
It honestly doesn't feel any different to working on the desktop version (aside from some minor issues when highlighting images), to the point where I can see myself blogging from my iPad more often (if I can bring myself to pick up that keyboard, anyway).
Anyway, just a late Sunday night ramble, but after a long week, I'm looking forward to taking our little boy to the zoo tomorrow.
Also, going forward, it's my intention to write more blogs such as this one on a single topic. If you have something you'd like me to write about, remember you can find me @lloydcoombes on Twitter, so let me know!
Recommendations:
I already put up my preview post, but if you're not playing Rainbow Six: Siege, I cannot recommend it enough. I dropped out of it earlier this year, but have found myself pulled back in by the new season looming. There's nothing quite like it for tactical thrills.
1,896 total views, 2 views today